Pubs, Restaurants and Tea Rooms
Almost all of the pubs in the area serve food as well as drinks, varying from basic pub food at the bar to high end restaurant dining. Most of the establishments listed below have online menus with indicative prices, so if you click on the links you can see what to expect and how much it will cost before you go.
Interesting local pubs that can be found in Wilmcote are The Masons Arms and the Mary Arden. On the A3400 Stratford to Henley Road is the Bulls Head in Wootton Wawen.
Tea Rooms and Cafes
If you are just looking for a local tea room or cafe in the area that is open in the day, then the nearest ones are: Truly Scrumptious at the Little Alne Craft Centre (post code b95 6HW) and the cafe at Yew Tree Farm Craft Centre (post code B95 6BY).
Further Afield
Heading south of Aston Cantlow, the  Golden Cross in Ardens Grafton is worth a visit if only for the views towards the Cotswolds and Malvern Hills, although the food is excellent. Also in that direction are the Blue Boar   in Temple Grafton, The Stag at Redhill, and several pubs in Alcester.
There is a plethora of choice in Stratford, including the famous Dirty Duck and Stratford's oldest pub The Garrick. Another old Stratford pub The Windmill is shown here located in Church Street, near the Old Town.
The local Branch of the Campaign for Real Ale, Shakespeare CAMRA web site is a good place to visit to find out more about the local pubs.
Shops and Post Offices
Wilmcote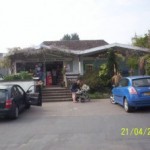 Wilmcote Store is open as follows:
Monday to Friday 07:00 – 19:00
Saturday 08:15 – 19:30
Sunday 08:30 – 17:00
A mobile Post Office Office visits the store on a week day basis offering a full range of postal services. Click here to go to our Postal Services page for more information. The mobile Post Office visits Wilmcote Stores at the following times:
Monday, Wednesday, Friday and Saturday  09:30 – 11:30
Tuesday and Thursday  13:30 – 16:30
Wootten Wawen
There are a selection of 16 craft units, specialist food stores and a cafe at Yew Tree Farm Craft Centre just off the A3400 road in Wootton Wawen.
Supermarkets
Alcester: Waitrose Delivery service available and internet shopping.
Stratford: Tesco, Morrison's and Waitrose. The Tesco and Morrison's stores both have fuel facilities.
Local Growers and Markets
Stratford upon Avon holds a Farmers Market in Rother Street opposite the Civic Hall on the first and third Saturdays of each month, which has a great selection of local and organic food stalls. The regular Stratford market on a Friday morning usually has a few regular fruit & veg stalls and a butchers stall that are worth a visit. Stratford also has the excellent "Barry the Butcher" on 6 Chapel Street for fresh local meat.
Farm Shops
There are several farm shops in the area but few very close. As you head towards Evesham, one of the best is Hillers Farm Shop just off the old road from Alcester towards Evesham at Dunnington Crossroads near the Ragley Estate, postcode B49 5PD. As well as locally grown fruit and veg (all labelled with growers and locations) they have butchery from Ragley Meats which provides meat & game from the nearby Ragley Estate, and a fish counter. There is also a cafe, a small gift shop and even a regular real steam miniature railway.
Heading east rather than south, there is Freemans Farm Shop at the Snitterfield fruit farm on Kings Lane Snitterfield CV37 0QA. Tel 01789 730404.
For a selection of those in Warwickshire you can go to the Farmshop.uk.com website.
Notes for Viewers and Businesses
Please note that the listing of all of the busnesses above does not constitute a recommendation for them. They are included primarily on the basis of being the nearest businesses of that type and hence may be the most convenient to use.
If you have a shop, pub or restaurant within 4 miles of Wilmcote that you would like to be listed or you can deliver takeaway meals to Wilmcote from anywhere, use the Contact Us form on this site and select Send to "Website Content". Please include at least all of the following items: the business name, business type, location including postcode, telephone number(s) and web address if you have one. There is no charge, but the editors retain the right to accept or refuse an entry, particularly if there are many entries of a particular type, in which case the nearest ones will appear